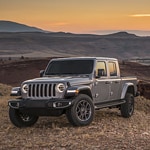 The all-new Jeep Gladiator is truly unique in Jeep's newest line of vehicles. Find out what makes the Gladiator so special and why you want to buy it today.
The new Gladiator from Jeep combines the style and driving power of a Jeep SUV with the performance and usefulness of a pickup. This combination works to create an ever-popular midsize pickup truck that exceeds its competition on the road today.
You can pack as many as five passengers into the new Gladiator thanks to its roomy back row seating. Each seat is designed to accommodate the tallest of passengers with ease.
However, it also has a roomy pickup bed that you can use for hauling just about anything. You can load up building materials, loads of hay, and even small machinery in the back and haul it without fazing the engine, body, or drive train of the new Gladiator from Jeep.