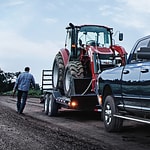 Nobody wants to get halfway done with a job when their truck breaks down, especially if your livelihood depends on it. The new Ram 2500 pickup truck makes this concern a thing of the past with its durable design and quality components. From the exterior to the interior to the engine, Wake Forest, NC buyers can rely on the Ram 2500 to get the job done.
The Ram 2500 was made with a tough steel frame comprised of 50,000-PSI hydroformed steel. Using extra crossmembers to increase strength and enhance efficiency, the Ram 2500 is built on a frame that is as tough as the jobs it will finish in Raleigh.
In your journey to get the job down, small slowdowns call for durable brakes to assist, as well. A Smart Diesel Exhaust Brake System helps control speed upon descent and apply smooth braking. This enhances stability and reduces wear on the brakes. Come in and try it out during a test drive at Westgate Dodge Ram Wake Forest today.