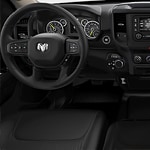 When you are in need of a reliable light-duty work truck for farming and ranching, look no further than the newest Ram 1500. Popular in today's pickup truck market, it has everything that you need for working around your farm or ranch today.
It can accommodate more than 12,000 pounds when it comes to towing, for example. You can easily hitch up a livestock trailer and take your steers, pigs, or other livestock to and from the market with ease.
It also has hill start assist, making it ideal for taking it into the pastures and fields around your property. You can park it on an incline, knowing that this assist technology will hold the emergency brake in place and prevent the truck from rolling downhill, even if there is a heavy trailer hitched behind it.
Discover the newest Ram 1500 today. Test drive one to appreciate its capability features.