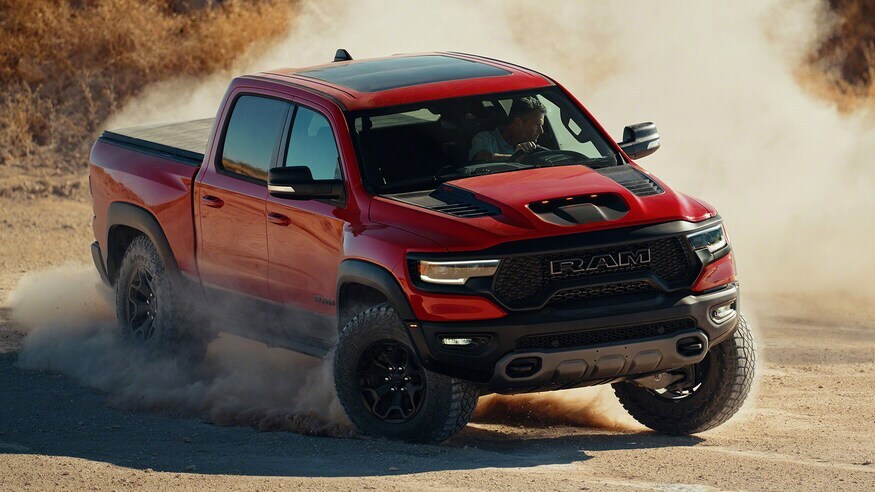 One of the most loved and popular trucks among the Americans started its journey back in early 1920s but got the badge of Ram in 1980s. Dodge is owned by Fiat Chrysler Automobile (FCA) and used to own Ram, but both parted ways to focus on development of better and enhanced technologies for the future. Ram trucks have always topped the charts of sales, on-road and off-road performance, consumer feedback and aftersales. 
Facing a fierce competition from Ford Raptor 150, Toyota Tundra and Tacoma and Chevy Silverado, Ram has always lived up to the name and standards set by its predecessors by class leading performance, durability and technology. The reason behind thrilling performance is the DNA of Dodge racing heritage that too years to develop and carve its legacy in the world of performance automobiles, for example the high performance engines and transmissions developed by the manufacturer over the years, suspension and turbocharging equipment and racing technology of Dodge used for other cars like Challenger and Charger. 
2021 Dodge Ram is offered in multiple trims based on engine, equipment and features offered and meet the needs of every enthusiast, be it a daily runner, payload shipment or ultra-performance. The
Dodge Ram TRX
is a specific trim with all the bells and whistles plus a heavily tuned powertrain and suspension system to beat all the odds on and off the road, traverse the tough terrains and clock insane acceleration in no time. Use of latest technology, performance inspired engine and suspension setup, lighter / stiffer chassis and all terrain tires make it the beast it is celebrated to be. Another version which even smokes the TRX is the Hennessey tuned Mammoth 1000 Ram truck, tuned by a very famous U.S based performance boutique, Hennessey, which takes the performance to next level. 
How Quickly does the Ram TRX goes from 0 to 60 mph?
2021 Dodge Ram TRX is the most powerful and fastest pickup truck available in market, thanks to its legendary 6.2 L Hemi V8 supercharged engine also known as the HELLCAT. This same engine had already been used in their other performance muscle cars like Dodge Charger and Challenger Hellcat.
This mighty engine is made of robust block made of cast iron that restrain a steel crankshaft coupled with induction hardened bearing assembly, capable of withstanding a 1,595 psi of firing pressure which is equal to a massive force of 20,000 pounds. Moreover, it has an ultra-performance air induction assembly which breathes 33 liters of air in a minute and a mighty twin-screw supercharger giving an instantaneous torque. It can regulate the boost pressure of up to 11.0 psi and generate a speed of 14,600 rpm. All this marvel of engineering produces a massive 702 break horsepower and 650 lb-ft of torque making the TRX lighting quick and hit top speeds with no effort. 
To improve the 0-60 mph figures, Ram equipped the TRX in first of its kind "Launch Control" with launch Assist. This feature modulates Engine RPM to deliver right amount of torque to wheels and also manages the wheel slip feedback to attain the quickest possible acceleration. By engaging the launch control, all the driver assistance features, especially the traction control is disabled and car is optimized to launch at 4500 RPM with minimal tire slip to get a perfect initial launch to hit 60 in minimum possible time. 
TRX Truck is also equipped with a highly enhanced driver interface system which enables the user to control all the functions of the vehicle and especially the different types of driving modes depending on the road condition, the terrain ahead and any payload being towed by the car. The sport mode is specifically designed to assist the launch control in hitting 60 mph mark in quickest possible time and hit top speeds. The sport mode allows the quicker shit intervals at max RPMs, a 30/70 torque split between front and rear wheels and sports tuned suspension helps with quick acceleration.
The 0 to 60 mph time for 2021 Dodge Ram TRX with Launch Control in Sport Mode is 4.5 seconds. 
There is another version of Ram TRX, which is purposefully tuned and modified by a private company called, Hennessey. It is a very famous and household name in America for after-market tuning of vehicles, such as Hennessey Venom GT. The Hennessey Mammoth 1000 TRX gets tuned to 1,015 horsepower, 969 lb-ft of torque with improved torque and other modifications. The Mammoth 1000 TRX is the fastest, most powerful pickup truck ever built in the world and has won many performance accolades over time.
Mammoth 1000 TRX hits 60 mph from stand still in lighting fast 3.2 seconds, with a quarter mile time of 11.4 seconds.
2021 Dodge Ram TRX Top Speed and Power Figures
Due to its massively powerful 6.2 L Hemi V8 HELLCAT engine, TRX produces a horsepower of 702 with a 650 lb-ft of torque. All this combined with a stiffer and lighter body structure, sports mode and Bilstein Black hawk e2 Suspension system giving the TRX its Active Terrain Dynamic coupled with Goodyear Wrangler Territory all terrain tires, TRX is capable of achieving the top speed of 118 mph which it handles very professionally.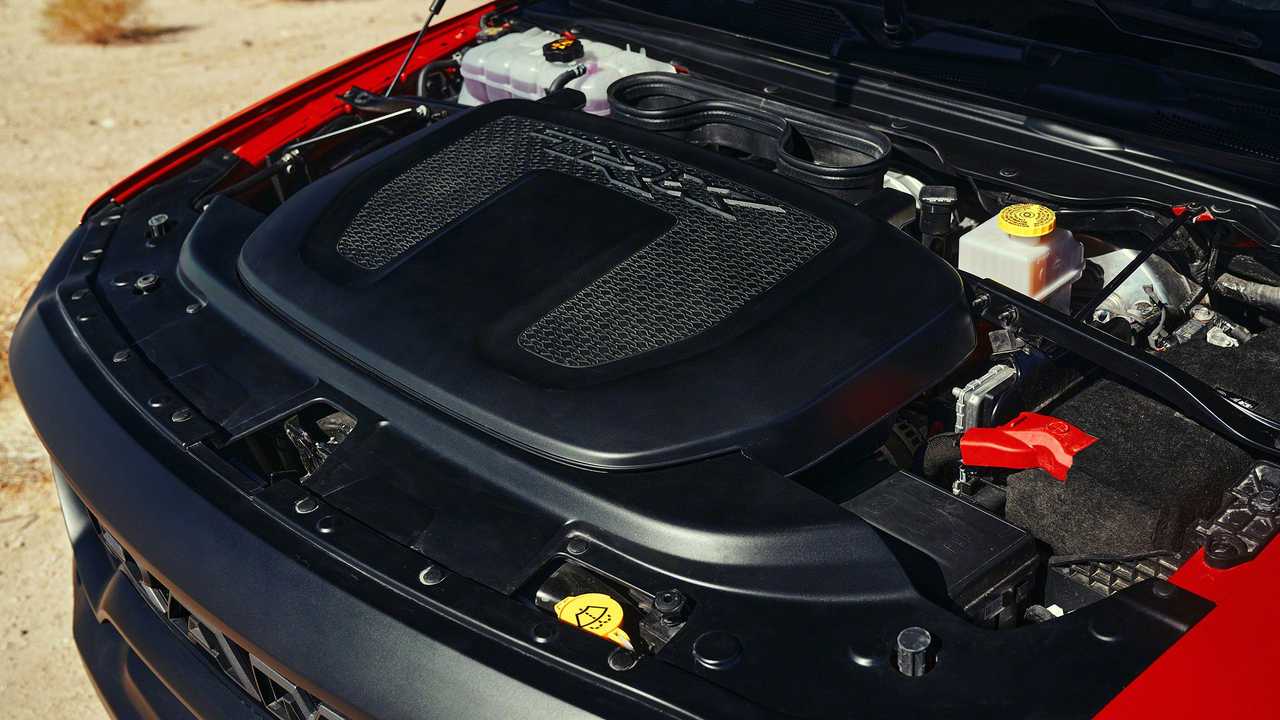 Top 5 Fastest Trucks in the Market 
With the aftermarket tuning firms playing with the powerful engines, adding sports tuned suspensions and transmission with superchargers and boosters, plenty of trucks can produce massive horsepower and clock top speeds and 60 mph mark in no time. These are 5 fastest trucks in the market:
2021 Rivian R1T - 0 to 60 mph = 3.0 seconds (Overall fastest-electric truck)
2021 Ram TRX Hennessey Mammoth 1000 0 to 60 mph = 3.2 seconds (Gas powered truck)
2020 Shelby Ford F-150 Super Snake - 0 to 60 mph = 3.5 seconds
2021 Hennessey Ford F-150 Venom 800 - 0 to 60 mph = 3.6 seconds
2020 Hennessey Jeep Gladiator Maximus - 0 to 60 mph = 3.9 seconds
In terms of overall figures and real world testing conditions, 2021 Rivian R1T is the overall fastest truck in the market and it is an electric vehicle while Hennessey TRX Mammoth 1000 is the fastest gas powered truck in the market and overall second fastest truck in the world. It smokes competition of other brands like
Ford
,
Toyota
,
Chevy
, and
Kia
.
Westgate Dodge Ram of Wake Forest 
If you are interested in test driving a Ram TRX, come on over to Westgate Dodge Ram of Wake Forest. We can set you up for a test drive in one of our TRX models. If you have any more questions about the Ram TRX, please fill out the contact form below today!